The Perfect Getaways With Family to Rhodes
Rhodes is an excellent destination for the whole family, as this beautiful Greek island has entertainment options that are proper for all ages. There are plenty of sandy beaches, water parks, and excursions you can do in order to explore Rhodes Island and have fun as well. Additionally, accommodation options and food are excellent, and you can definitely find something that will fit your budget.  So, if you are thinking about your summer vacation check out these perfect getaways to Rhodes with family.
 1. Faliraki
 One of the most known and biggest beaches in Rhodes is Faliraki. The beach area stretches around 5 km distance, so you have plenty of places to explore if you wish to. Faliraki is mostly an organized beach with many facilities including water sports for kids and adults as well. In a short distance, it is Faliraki Water Park and a Luna Park, which are exceptional activities for kids. Additionally, the area of Faliraki is full of hotels and resorts that have quite good facilities.
 2. Agathi
 Agathi is an attractive sandy beach, that is quite away from the old town of Rhodes, but totally worth visiting. It is not in its biggest part organized and hasn't many amenities, but it is a quieter and more relaxed place to visit. There are a couple of canteens where you can buy some essential food, but make sure to have some food with you as well. It is an ideal place for the whole family, where you can relax by the seaside or doing some activities with your kids at your own pace.
 3. Tsampika
 Tsampika beach is the second most visited place in Rhodes after Faliraki, and it is situated in a beautiful gulf. The beach is also sandy with shallow waters which make it ideal for kids and the elderly. It is an organized beach with some good options in water sports, and also it is perfect for walking by the seaside. A drawback for the beach is that if you visited during July and August is extremely hot with a high 40 degrees temperature, that is not so ideal for seniors and kids, or if you can stand the heat for any reason. But, in any other case is totally recommend it.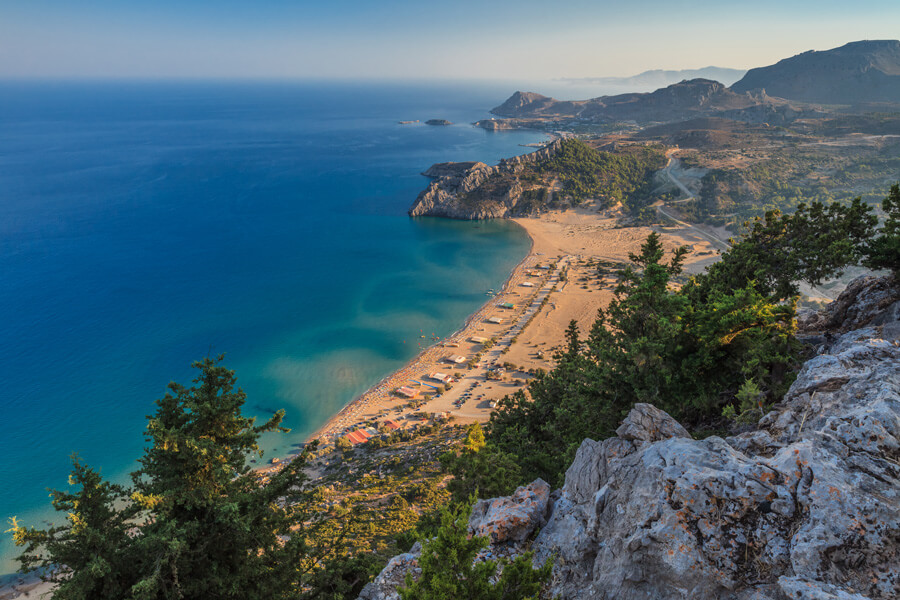 4. Kolymbia
 This beach has it all, especially if you are not the kind of traveler that you want to do long distances on your vacation. Kolymbia is a low profile beach area with an excellent resort, where you can spend a great family vacation. The location consists of three small beaches, so wherever you go, one is for sure, you will enjoy shallow waters, crystal clear with sand. Also, there is an excellent place to taste local delicacies, as there are many family restaurants that serve great food. Kolymbia has many facilities with water sports, but it is well known for snorkeling. A must-see place to go to Rhodes Island.
 5. Antony Quinn
Antony Quinn is a fascinating bay overlooking an excellent green location in Rhodes, which definitely worth visiting. It is suitable for older kids, as it is a rocky beach with deep waters, but the location is alluring. The bay creates an excellent crystal clear with emerald green-blue waters, that the only thing you wish to do is to dive into the sea. If you visited in high season, it might be quite crowded, because it is in close distance with the Old Town, and popular among tourists and locals.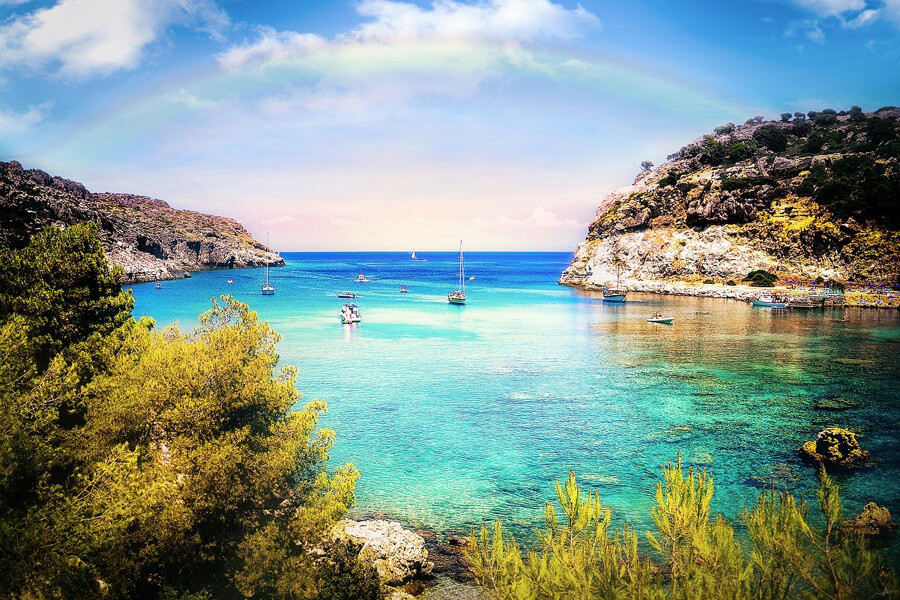 6. Lindos Beach
Lindos is a wonderful district in Rhodes with beautiful white houses, that definitely worth exploring. There are plenty of good hotel facilities and resorts that will offer you a great holiday package. The beach is also sandy with shallow waters, but there is a limitation on water sports facilities in some cases. Besides, Lindos has some excellent restaurants which serve great dishes that worth tasting. It is an alluring place not to miss while being in Rhodes.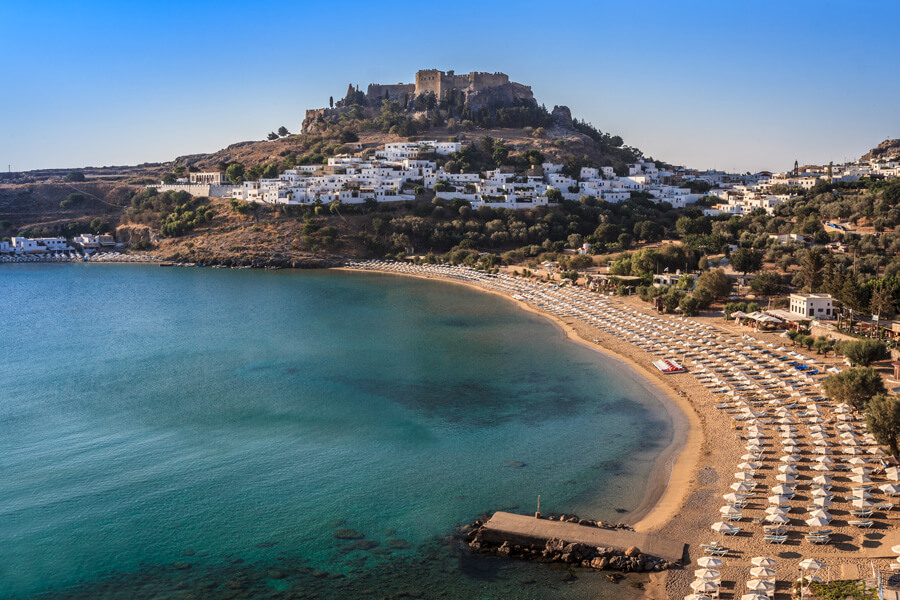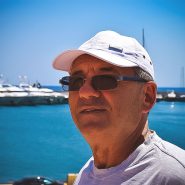 Paris
My name is Paris and I am a 30 year old vivid aspiring traveler in the body of a 65 year old man. My passion has always been going out there and taking things in while exploring the wildness and the magic of the world. I hope you'll enjoy reading my stories.